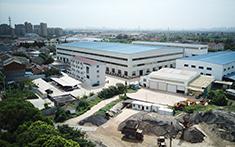 Based on dry mortar production line, SANKON basic dry mortar production line is equipped with an automatic packaging machine for higher packaging speed and lower labor intensity.
The dry mortar machine has a large production capacity, which can be 5t/hour, 10t/hour, 15t/hour, 20t/hour, and 30t/hour. To ensure customers feel secure in their purchase, this dry mortar equipment is accompanied by complete services, including a one-year warranty, installation, commissioning and operator training services.
Packaging
Main body of big size equipment is unpacked, but electric control panel and spare parts are in wooden or iron package. SANKON dry mortar machine can also be packaged according to customers' specific requirements.
Thanks for visiting our website! As a China-based dry mortar machine manufacturer, we also produce automatic AAC block machine, semi automatic AAC panel machine, components of AAC machine, etc. to suit your various needs. Additionally, we can manufacture block making machine according to customers' specific requirements. With the advantage of superior quality and reliability, our products are in increasing demand in Saudi Arabia, Indonesia, Singapore, Vietnam, among others.
If you have any related need, please contact us via any of the methods listed on the website.