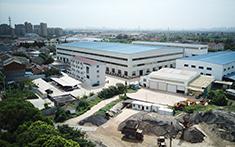 JIANGSU SANKON CONSTRUCTION AND TECHNOLOGY CO., LTD. is a premier manufacturer of AAC machine and dry mortar machine, based in China. We are dedicated to producing efficient and environmentally friendly block making machine, concrete panel machine and dry mortar equipment to customers worldwide.
We at SANKON have grown steadily over recent years. Our facilities now cover an area over 12,000 square meters, and are staffed with more than 100 employees. Large investments in equipment and a focus on continuous innovation, coupled with our scientific management and employment of skilled staff, have resulted in us being able to providing superior AAC block machine and dry mortar equipment to customers around the world. In addition to quality products, we also provide complete customer service.
A large selection of AAC equipment and dry mortar equipment enables us to easily accommodate varying market demands on all levels of production. We can also meet customers' needs for components of AAC machines by providing a wide range of autoclave, pouring mixer, cutting machine and packing conveyor.
With reliable quality and economical prices, SANKON products are very popular with customers in India, Vietnam, Saudi Arabia, Indonesia, Singapore, and other countries. We welcome more global customers to work with us!