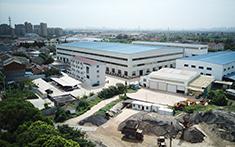 JIANGSU SANKON CONSTRUCTION AND TECHNOLOGY CO., LTD. is a China based AAC block equipment and dry mortar equipment manufacturer. We manufacture a wide range of building material machines, including block making machine, concrete panel machine, dry mortar machine, and more. We also provide a complete line of components for AAC machines, like pouring mixers, autoclaves, cutting machines and tilting hangers.
Welcome to JIANGSU SANKON CONSTRUCTION AND TECHNOLOGY CO., LTD.
SANKON products are built with the reliability, safety and environmental friendliness our customers have come to expect from us. In addition, they have a large production capacity. Our AAC block machine can produce 50000 to 300000 cubic meters of AAC blocks every year and our dry mortar equipment can produce 5 to 30 tons of mortar every hour. The concrete blocks and panels produced by our AAC machines have many advantages, such as being light weight and offering great thermal insulation, fire resistance, and easy workability. As a result, our products are increasingly used in new construction of residential homes, commercial and industrial buildings, and many other applications.
At SANKON, we place great emphasis on quality. We have complete production facilities, including lathes, planer, drilling machine, plasma flame cutting machine, welding machine, and more, which enable us to execute any processing procedures ourselves that are likely to affect our product quality. In addition, we strictly implement the ISO9001 quality management system and provide employees with frequent training to improve their skills, which further guarantee the quality of our block making machines and dry mortar equipment. Our cooperative relationships with technical institutes also assist us in making improvements to our products. As a result, we are able to provide high quality AAC panel machines and dry mortar machines to customers all over the world.
At SANKON, we strive to satisfy customers by providing building material machine which is both high quality and economical. To achieve this, we purchase materials directly from raw material manufacturers, in order to avoid any middle-man expenses. Additionally, many components used in our AAC machines are produced in our own factory, which reduces our production costs. We are located in Jiangyin City, Jiangsu Province, which is in the Yangtze River Delta economic zone. Here we have access to convenient transportation and abundant resources, which greatly reduces both our production costs and our customers' international shipping charges. These factors enable us to provide high quality AAC block machine and dry mortar equipment at economical prices.
We back up all of our AAC machine and dry mortar machine with complete service, and all of our products come with a one year warranty. In addition, product design, installation, commissioning, operator training and OEM services are also available.
Thank you for visiting our site. We look forward to working with you.