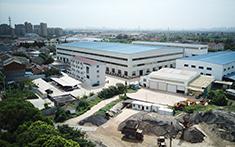 SANKON pouring mixer is a key component of AAC machine. After being metered, raw materials and water will be poured into the cylinder of this pouring mixer and then be mixed together into slurry that is suitable for subsequent pouring. The slurry can be poured into the mould for pre-cutting by opening the discharge butterfly valve.
Packaging
The main body of the big size equipment is unpacked, but electric control panel and spare parts are in wooden or iron package. Special package based on customer's requirements is also available.
Service
SANKON pouring mixer is accompanied by complete service, including installation, commissioning service as well as a one-year warranty.
SANKON, a professional pouring mixer manufacturer in China, is also committed to offering other components of AAC machine, such as cutting machine, tilting hanger, and autoclave, just to name a few. If you need any of components of AAC machine, please don't hesitate to contact us