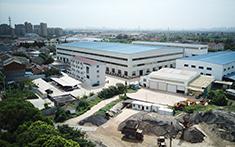 The autoclave is a critical component of AAC machine. It is primarily used for curing aerated concrete blocks or panels under high temperature and high pressure. After the autoclaving process, the concrete blocks or panels achieve high strength and other unique properties, and are ready for immediate use on the construction site.
Materials
The autoclave cover is made of 16MnR steel board, which meets GB6654 standards. The flanges of the autoclave body and cover are forged and processed from 16Mn steel board. The forgings are compliant with JB4726 2000 standard and are subjected to ultrasonic nondestructive test.
Packaging
The main body of big size equipment is unpacked, but electric control panel and spare parts are in wooden or iron package. Customized package is also available.
Service
SANKON autoclave is accompanied by complete services, including installation, commissioning services as well as a one-year warranty.
As a China autoclave manufacturer, SANKON provides a comprehensive range of AAC block machine, concrete panel machine, and more. Due to our consistent focus on quality, our company has been ISO9001 certified. In addition, our dry mortar equipment, block making machines are economically priced because we greatly reduced our production cost for our easy acquisition of abundant labors and sea transportation.
For more detailed information, please continue browsing our website or call us directly.